Home » Featured Articles, Travel
NEW ENGLAND'S HIDDEN GEM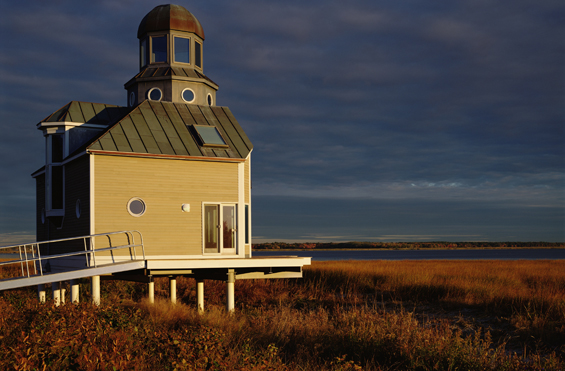 Beautiful… captivating… romantic…you will instantly fall in love.  And no, I am not writing about this month's DOWNWIND model.
We all search for new places to fly not too far away.  My friend and I found a fantastic little gem in the northeast: a quaint New England town packed with history, great restaurants, charming bed & breakfasts, unique boutiques, friendly faces, and merely a few miles from the local airport.
A few weeks ago we flew to a new location.  Naturally, both of us are pilots and we both wanted stick time en route to Newburyport, so we figured out an arrangement to make it work. I left Islip (ISP) and flew to Danbury (DXR) in my Cherokee, managed to squeeze in some flight time for myself before taking my friend's Piper Arrow to B2B, Plumb Island, MA. The flight from Danbury (DXR) to Plumb Island, MA took us around an hour and ten minutes at a ground speed of about 139 kts; including my flight from Islip (ISP) our total trip time was around an hour and a half. Nonetheless, time seemed to fly by as we passed miles upon miles of beautiful scenery below.
Plum Island (B2B) is claimed to be the oldest private airstrip in the USA.  Back in 2001 the airport was on the verge of being shut down, but concerned citizens and aviation enthusiasts rallied to save it.  The airport is now owned by the Historic New England Society and remains a small, uncontrolled field. The approach is tricky as it is right on the water and the runway is a slight 50 x 2100.  Be sure to practice short field and cross wind landings for this one, and I also recommend checking out your aircrafts performance charts as you will have to clear a 50 foot obstacle in order to land. It is not a soft field, but when you touch down you will feel like you have landed in someone's backyard.
We were very lucky to have Charlie Griffin, owner of the Joppa House, a rental property, waiting for us when we landed.  Charlie gave us a grand tour of this peaceful retreat, and I was instantly awed by the tranquility of the premises. The Joppa House stands sturdily on stilts overlooking the Merrimack River, and every room in the house is trimmed with planks of golden wood, soft colors, and bathed with light from its many large windows.
The relaxing atmosphere of the Joppa House was an excellent start to getting familiarized with the town of Newburyport. This small town is bustling with things to do, including shopping at specialized local boutiques such as Bobbles & Lace for the ladies or Peter Mark for the men, getting a hot cup of espresso from gourmet coffee shop Souffles in Market Square, or sitting down to a mouth watering meal at the rustic Black Cow Tap & Grill. My friend and I enjoyed walking around as tourists, soaking up that Newburyport charm that could be seen in every storefront window.
There are different sections of Downtown Newburyport, and I was lucky to visit each section. Market Square, Horton's Yard, The Atkinson Building, and the Tannery all offer an incredible mix of historical charm and modern flair, housing art galleries, boutiques, home décor shops, bakeries, cafes, bookstores, and many more along the brick cobbled streets to keep any tourist entertained for days. The business owners were friendly and helpful, and locals and tourists alike seemed to be enjoying the quaint, peaceful atmosphere.
So you've done your shopping, drank your coffee, eaten at the bakery, and even bought a souvenir or two at the local home décor boutique – what to do next? If you are an outdoor person like myself, Newburyport has an array of activities to keep your mind and body active. For starters, there is the bird watching that can be done at the Parker River National Wildlife Refuge on Plum Island, a stunning beach set on 11 miles that is home to over 800 species of birds, including shorebirds, egrets, and herons. Fishing is also a popular past-time, with fun activities ranging from deep-sea fishing on party boats to kicking back and casting a line in the Merrimack River. If you are visiting in the winter, you're in luck because Newburyport offers cross-country skiing and snowshoeing everyday at Maudslay State Park.
If you really want to go gung-ho on the tourist attractions, go for a two and a half hour cruise on a Plum Island Ecotour to explore the area's wildlife aboard the mid-size vessel; remember to take snapshots as you cruise through the Great Marsh, home to hundreds of Plum Island's wildlife animals and plants. There is also Plum Island Kayak that can provide a hands-on, fast paced guided kayak tour of the Merrimack River – you might even get a chance to paddle with seals! When you get your land legs back, I suggest walking over to the Plum Island Lighthouse and reading up on its fascinating legacy.
As my friend and I walked back to B2B to head back home in the Piper Arrow, we were both noticeably relaxed and well rested. Newburyport is indeed a gem worth treasuring and revisiting time and time again. The nostalgic New England charm is entrenched throughout Newburyport, and it is certainly a town I would recommend visiting to any fellow pilots, friends, and strangers alike.