Home » Highlights
Wings Sports Bar and Grille
Wings Sports Bar and Grille
20 Lindbergh Drive, Hartford, CT
(860) 241-1114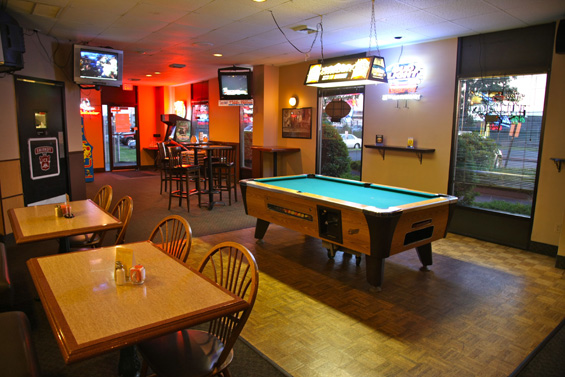 So, recently I flew with a friend to Hartford (HFD) to check out Wings Sports Bar and Grille, the restaurant on the field.  Owners Nancy Jablonski and Rich Morotto have really got this setup right.  Just by walking in, I immediately knew the place would be great.  This pub has a real sports bar atmosphere.  With a pool table, a video game area, a dart board, TV's all around so you don't miss a minute of your favorite game, and a full-stocked top shelf bar – I was in love.
Initial impressions aside, nothing endears a restaurant to me more than its food. So let's talk about the essentials here – the chicken wings.  These babies are the perfect redemption for every dry, scrawny, poor excuse for a chicken wing you have ever had.  They are served in quantities of 12, 24, or 36.  I…I mean we had the 24-piece order.  The next question: mild, hot, or BBQ?  Did I mention that head chef Stephen Sarlo has won several awards for his sauces?  I like hot, but knowing I had to fly back home and would be trapped in a tiny cockpit with no visible means to, er, vent, I thought I would play it safe and go for the mild.  Since I also like BBQ, the waiter was kind enough to bring the wings out with both the spicy and honey BBQ sauces so I could try them both.  WHOA MAMA!   The wings came out fresh, plump, juicy, and at a scorchingly hot temperature.  The sauces were complex and tasted incredible.  I liked the spicy sauce, but the honey BBQ absolutely stole the show.  After a quick break, my buffalo chicken wrap came out, and it was just as good and as thoroughly enjoyable as the wings.  Also, in a nod to customer service long-gone at most restaurants, you can substitute onion rings for French fries, which is what I did since I love me some rings. Again, they were cooked to perfection, with a nice crispy coating that didn't fall apart as I snarfed them down.
The Wings Sports Bar and Grille was friendly and efficient, passing my drink-refill test with flying colors and making sure we had plenty of napkins and a place to put the bones. Atmosphere, especially for the aviation-inclined, is great – you can sit on an outside deck while you eat, enjoying a great view of all the aircraft taking off and landing.  Of course, having a few beers from the tap to accompany the wings and the onion rings would have made this the perfect meal, but having the privilege to fly to this gem, relaxing over a wonderful meal, and ending the trip with a great flight home made this a perfect trip, so I'm not complaining (much…). The next time you're in Hartford, check out Wings Sports Bar and Grille, you'll see what I mean.